I I'm on a quest. I want to become the reigning queen of content strategy. The Oprah of content, if you will.
This journey has included years of roles that have shown me the good, the bad and the ugly of content strategy, development and management. And within my research, I stumbled upon an article outlining what's required to become a content strategy heavyweight. I believe all points were solid, but I'm here to call out what they missed.
Don't get me wrong, I'm not knocking their hustle. I just don't want to be ANY heavy weight. I want to be the Mike Tyson of Content Strategy (minus the face tattoo and ear snacking).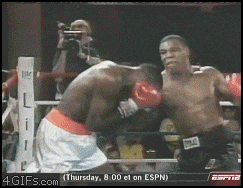 So what you'll find here is an extension of the first article, but fined tuned to highlight those qualities that will help me reach my goal.
Organization and multi-tasking skills: Yes, yes, and yes. I couldn't agree more. But, this is what makes the job fun. Actually, this is why you should never be bored. Organization is key to keeping your team on the same page. Your task is to find the gaps in communication, create a space for the entire team to know (and understand) what's on everyone's plate, offer a filing process and – ultimately – develop a rhythm. In terms of multitasking, be prepared to own a myriad of tasks. I wouldn't say you need to be a guru at everything, but consider your strengths. Are you a visionary? Writer? Analytical? Delegator? Communicator? Storyteller? Designer? Etc.? As a strategist, you want to strike a balance between multiple skillsets in order to create the blueprint of the content plan.
Solid writing skills and an eye for detail: As a marketer, I often downplayed my writing skills. But, I soon came to understand that this is a solid skillset that you should hone. It absolutely comes in handy when you're conveying the overarching story. Furthermore, it's nice to know that you can write the copy if necessary OR guide your writing team. As for detail, look out for all errors. More importantly, know your audience. Pick up on phrasing or idioms that may not translate well if you have a global audience. Callout anything that may be considered offensive to some. Aim for consistency throughout all the copy used on a platform and within a campaign – all while remaining true to your brand. It goes beyond the grammatical errors. But, who are we kidding? Grammar is an absolute must.
Interpersonal and motivational skills: When I was a news reporter, I had an opportunity to interview people of all walks of life. From the CEO to the entry-level employee, you should have the moxie and ability to build relationships with everyone – especially your team members. As for motivation, you need to truly believe in what you're doing. If you truly believe it and it is grounded in the brand's message, it is easier to motivate. But this is where interpersonal skills come into play. You should be building your goodwill during your tenure in your role. Motivating, supporting and encouraging your people makes your job more fulfilling.
An analytical and interpretive mind: Analytics are key in content strategy. Sometimes it can be difficult to get a hold of, but try your best to find something. This information can help guide you as you think about what will and won't work in your overall strategy. If you learned that an IG campaign failed in past, knowing that content was verbose and lacked compelling imagery is an excellent start as you start planning. Now you're in a position to run A/B tests of your own to determine what will work for the audience you're serving. You can set the appropriate key performance indicators (KPIs) as you use previous goals or set new goals for the campaign you plan to run. Honestly, how do you know where you're going if you have NO clue as to where you've been?
Flexibility: My mom was in the military. If she says be there by 5 p.m., I better be there by 4:45 p.m. to be on the safe side. So for me, flexibility was a hard nut for me to crack. I do believe planning is key in content strategy. However, to truly be effective and memorable, it's going to take flexibility to ensure relevance and resonance with the audience you're communicating with. Don't sleep on this. Be on time, but don't be SO tightly wound that you miss out on wonderful opportunities to shine.
Consensus-buiding skills: In my experience, those interpersonal and motivational skills come in handy here. Plus, you need to come with facts. Best practices. Examples to support your recommendations. Prior to building consensus, know your internal audience. At the end of the day, EVERYone will need to feel they can walk away with what THEY want. It's human nature. Go into the conversation prepared to answer the proverbial "what's in it for me?" Yet, your recommendations need to always support the brand's goals and messaging paired with the company's objectives and mission. Ultimately, don't forget that your recommendations should reflect the needs of the consumer you're trying to attract and/or retain.
---

Trustworthy: Not to sound too "syrupy," but trust goes a long way. People need to trust that you understand the goals of the organization and the brand. People need to trust that you understand and truly want to inspire your existing customers and attract new ones. People need to trust that you have your customer's and team's best interest at heart. With content management and development, there will be fire drills. However, everyone needs to trust that your sleeves are rolled up and you're helping put that fire out. Don't wait till a fire emerges and then show up with donuts. Donuts don't put out fire. I repeat, they DO NOT. PUT OUT. FIRES.

Planful and Expectation Setting: I'll admit it. I'm on the fence about "planful" actually being a word. Now that is out of the way, let's get to planning. This is a skillset that you must lean your hat on heavily. When you're working with a creative team, the last thing they need is for their best work to be stifled. They understand that things happen (remember, flexibility). However, 80% of the time, map out a framework for all projects, campaigns and platforms. Start with setting your team up for success. Offer guidelines, a brand playbook – if you will. Set up an all-hands meeting (please try and make it fun) to walk through the guidelines and encourage everyone to ask questions. Get everyone on the same page. For instance, I was able to guide my team to build out all social network copy, videos and graphics a month in advance. It was certainly rough, but we got there and boy was it smooth sailing AFTER we got that rhythm in place. It set the expectations of everyone involved. My brand manager and I had time to review and approve the work within our busy schedules whilst giving our creative team time to adjust. If you see the schedule slipping, let everyone know and encourage everyone to do the same!
Audience Steward: Learn your audience. Advocate for them – hard. Seriously. Your content will NOT work if you are tone deaf to what they are responsive too. Study what works for other brands that cater to the same audience. Don't just look at the competition. If you represent a luxury fashion line, look at luxury cars, appliances, etc. Figure out what your customers need and deliver. Be prepared to make changes if what you're doing isn't working (analytics, flexibility).
Forward Thinking: I've lost count of the nights I laid there thinking of how I could plan the perfect survival plan for me and my family during the zombie apocalypse. Food kit, anyone? All jokes aside (okay, I'm slightly serious), with content you should always be thinking about the big picture and what's next. Could there be a fallout on a particularly risqué spoof video? Sure, you're copying a poignant music video that has enjoyed massive success, but are you rubbing people the wrong way? Perhaps you're using the latest slang word to feel "hip" and "with it." Yet, you may be offending someone. Or perhaps you know your brand is about to go through a massive restructuring, now is NOT the time to test out something new when it is contrary to the message in the two-year pipeline. So you know your automotive brand is switching its image from economy-priced to compete with luxury brands. Don't strategize a year-long video ad campaign boasting how you have the cheapest cars in the business. Hey you may get moderate success, but you're shooting the brand in the foot when you know it's about to make a serious switch. Think ahead.
Budget Conscious: So you have a budget. In my experience, you can either NEVER have enough because there's always more you could be doing. Or you have a lot, but not enough time. So you're faced with a "use it or lose it scenario." Whichever boat you land on, continue to be planful and a forward thinker. In my last role, I became a permanent fixture in my accounts payable department. My best suggestion is, as you map out your overall strategy, tie-in the numbers. Do your due diligence and get final numbers from vendors upfront. And stick to them. Hold them to the contract, but be willing to adjust (only as needed) because if you have no room to get more dollars, you are going to chip away from "the powers that be's" trust. Don't forget, trust is vital! If this is a sticky area for you, partner with your manager up front on ways to stick with it. If you need them to be your guard dog when the vendors attempt to go off the rails, be prepared to put in that fight.
Scrappy: Last but not least, be scrappy. Look for smaller, local vendors who are proven but hungry for new, exciting work. If you're hiring direct reports, seek out those candidates who have multiple skills and are anxious to use them. You may hire a copy writer who has a knack for Photoshop. Or an analyst who has a natural talent for writing. For me, I was always seeking ways to cut budget from unnecessary costs (like expensive hosting agents for our websites) so that I could put it towards our content development and analytical tools. Teach yourself skills, such as HTML or programs like HootSuite/Sprinklr/Google Analytics, in case you want to step in when needed or own a certain task. If there is ever a role where scrappiness is appreciated, it's content strategy.
I've experienced it all, but these are all the basics of what I believe will give me the power to excel as a content strategist. I'm working to find my way.
Plus, I sort of lied earlier. Yes, sleep is sacrificed by way of a zombie attack, but content strategy certainly has those wheels turning in the wee hours in the morning as well. But, I'm getting there!
What are you doing? What's missing on this list or doesn't need to be?